Incentive travel ISTANBUL:
48-hrs tour
When we talk about incentive travel, where destinations vie for attention to provide unforgettable experiences, Istanbul stands as a shining gem.  
With its rich history, stunning architecture, and vibrant culture, this city effortlessly captivates the hearts of travellers.  
Beyond its historical allure, Istanbul offers a dynamic blend of old-world charm and modern luxury, making it an ideal destination for incentive travel programmes.  
So, whether you are seeking boutique hideaways, medium-sized comforts, or sprawling luxurious stays, Istanbul has it all.  
Join us as we embark on a whirlwind 48-hour tour through this enchanting city, discovering its hidden gems and renowned hotels that cater to every traveller's desire. 
Menu
1.Boutique hotel in Cappadocia
2.Mid-range hotel in Istanbul 
3.Large hotel in Istanbul
4.Motivational and rewarding experiences in Istanbul 

Why choose Istanbul for your next incentive travel

programme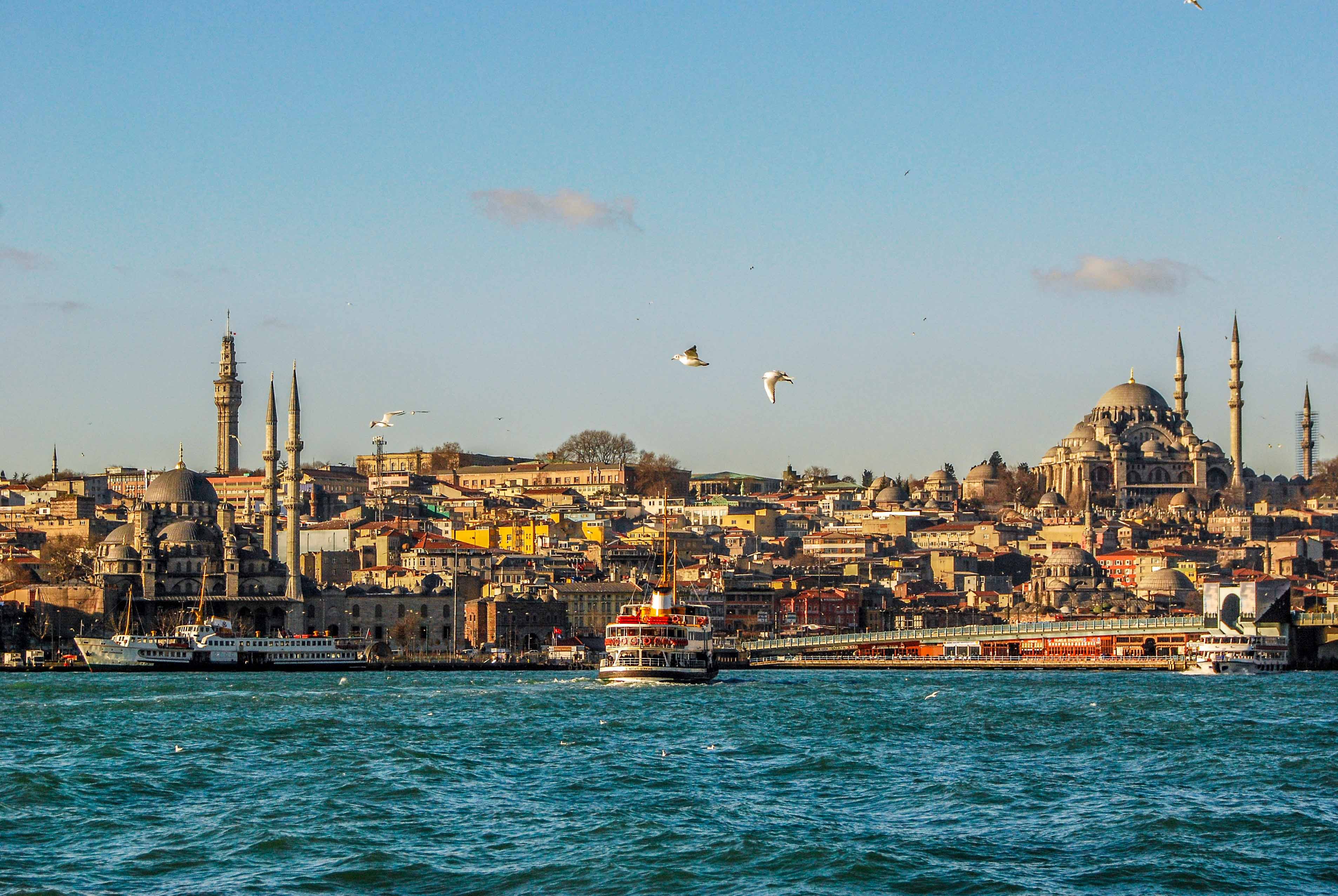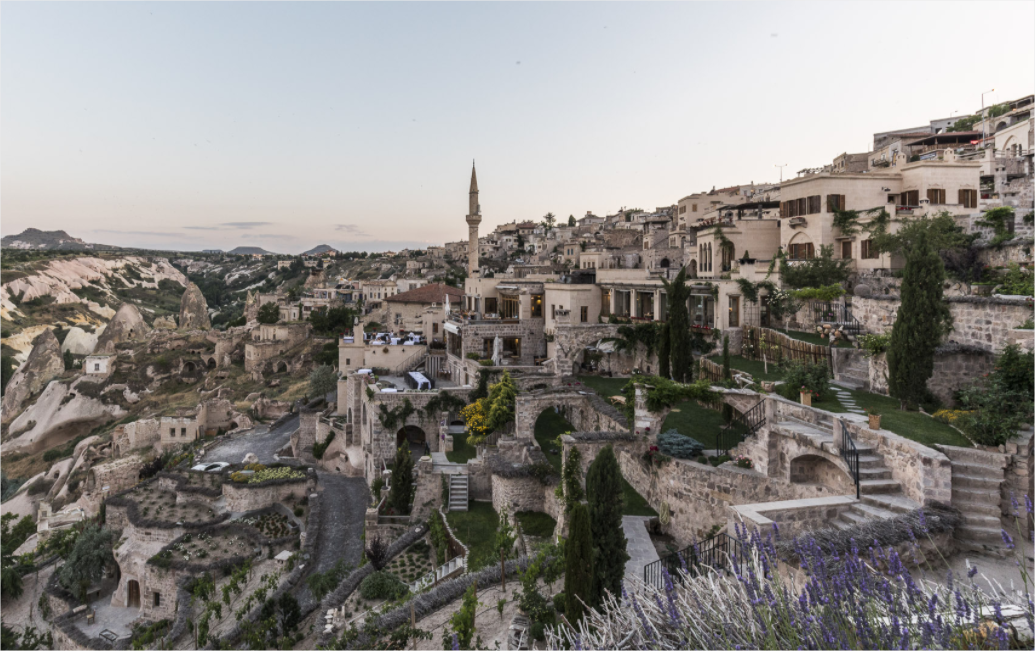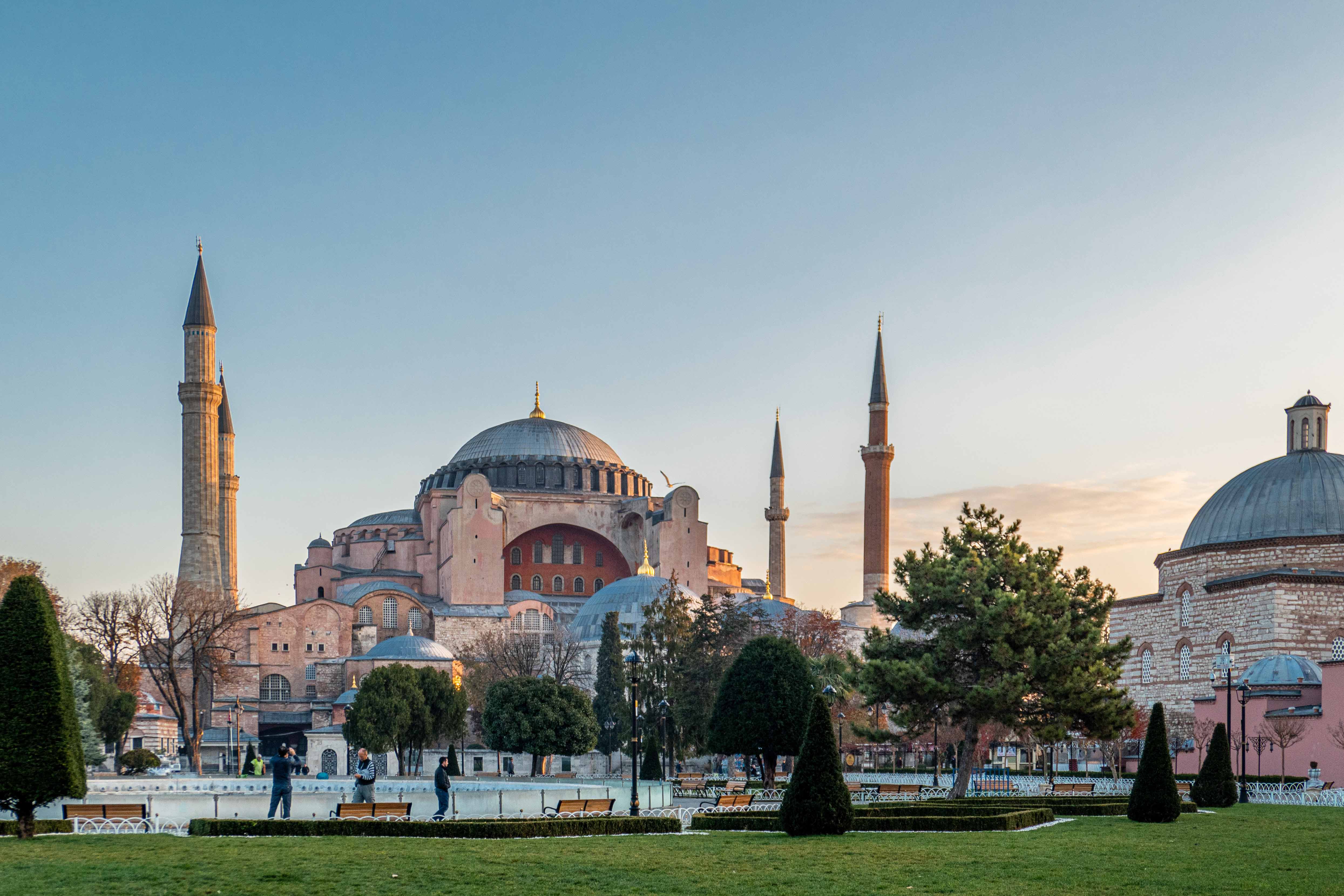 Istanbul, straddling the borders of Europe and Asia, is more than just a destination; it is an experience that weaves the threads of history, culture, and modernity into a tapestry of wonder.
At the heart of the city lies a treasure trove of historical landmarks that resonate with stories of empires and civilisations that have left their mark. The Hagia Sophia, once a cathedral, later a mosque, is a testament to the city's evolution through time. As you walk through its awe-inspiring interior, you will be walking in the footsteps of emperors and sultans.
But Istanbul is not just a city frozen in the past; it pulses with a vibrant energy that emanates from its bustling markets, lively neighbourhoods, and creative art scenes.
The Grand Bazaar, a sprawling labyrinth of shops and stalls, offers an immersive experience where you and your team can engage in the age-old tradition of haggling while uncovering unique treasures. In contrast, the hip districts of Karaköy and Beyoğlu paint a contemporary picture of Istanbul, showcasing its progressive spirit and creative ingenuity.
Beyond its own borders, Istanbul's proximity to Cappadocia adds an exciting dimension to your incentive travel programme. Cappadocia's otherworldly landscapes, with their surreal rock formations and the mesmerising spectacle of hot air balloons floating at sunrise, evoke a sense of adventure and awe. It is a land that beckons your team to explore its caves, hike its trails, and gaze at the stars in the vast Turkish sky.
Istanbul is a canvas upon which memories are painted, relationships are nurtured, and inspiration flourishes.
Boutique hotel in Cappadocia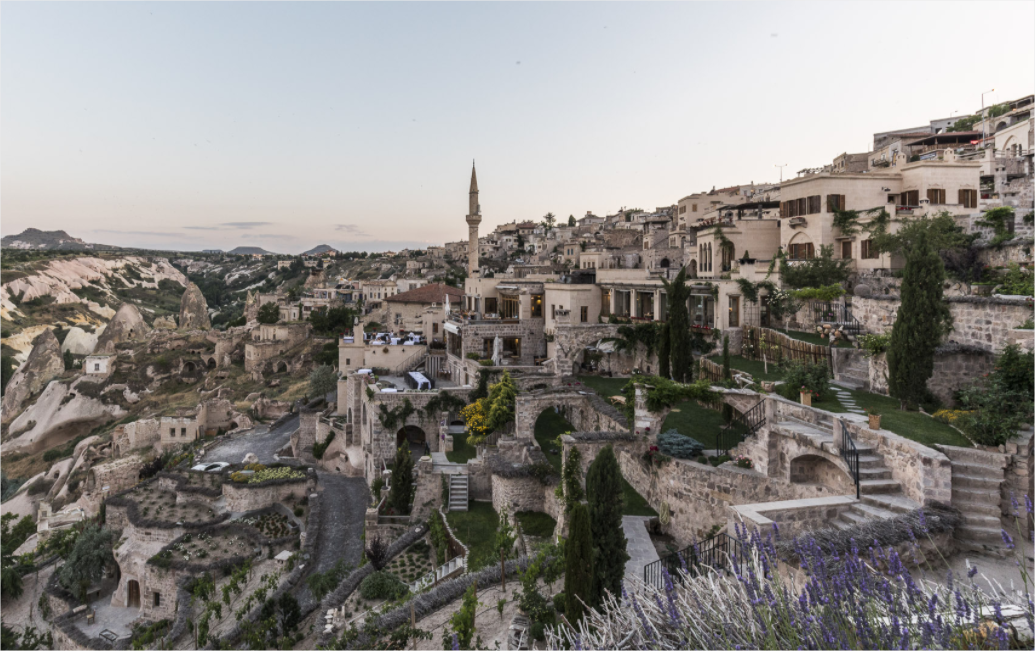 In the heart of Cappadocia's surreal landscapes lies a boutique hideaway that epitomises the essence of luxury and enchantment –
Argos in Cappadocia
.
Nestled amid breathtaking rock formations and ancient cave dwellings, this unique hotel offers an experience that transcends the ordinary and transports guests to a world of unparalleled beauty.
The Argos in Cappadocia Hotel isn't just a place to stay; it is a journey into history and innovation. This meticulously restored former monastery seamlessly fuses the rugged charm of its surroundings with modern comforts, creating an atmosphere that is both timeless and contemporary. As you step into the meticulously carved rooms and suites, you will be immersed in an ambience that echoes with whispers of ancient civilisations.
What sets The Argos apart is its commitment to authenticity. The hotel's 51 rooms are spread across several different structures, each uniquely shaped by the land's natural contours. Guests have the opportunity to sleep in cave rooms that retain the mystique of their original inhabitants while enjoying amenities that cater to modern desires.
And how about planning a meeting or a conference in the 2000-year-old bezirhane (linseed oil mill) or one of the many other event spaces with seven metres high ceilings?
A sense of wonder prevails in every corner of The Argos in Cappadocia. This boutique retreat offers not just accommodation but a genuinely wonderful immersive experience.
Mi

d

-range

hotel

in Istanbul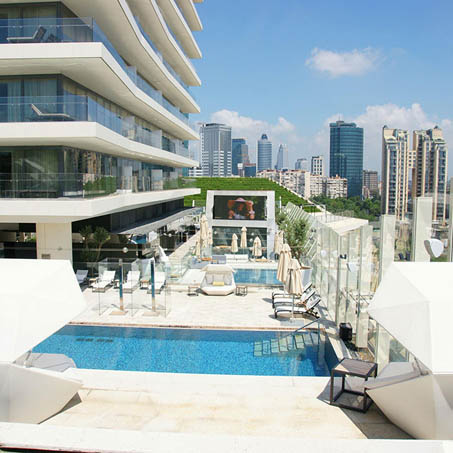 Nestled on the shores of the Bosphorus,
Raffles
Istanbul
, with over 130 rooms and suites, offers a perfect balance between the intimacy of a boutique hotel and the amenities of a larger establishment.
Upon entering the elegant foyer of Raffles Istanbul, you can immediately sense a refined atmosphere that reflects the hotel's commitment to comfort and sophistication. The spacious rooms and suites exude understated luxury, each adorned with contemporary Turkish artwork and stunning views of the Bosphorus or the city skyline.
And when it comes to meetings and events, Raffles Istanbul shines with its state-of-the-art facilities. From large event spaces, perfect even for a car launch, to more intimate meeting rooms, the hotel provides versatile options for gatherings of all sizes.
Beyond the luxurious accommodations and meeting facilities, Raffles Istanbul offers an array of dining experiences that cater to diverse palates. From the elegant Rocca Brasserie serving Mediterranean cuisine to the panoramic views at Lounge 6, each dining venue is a celebration of culinary excellence and impeccable service.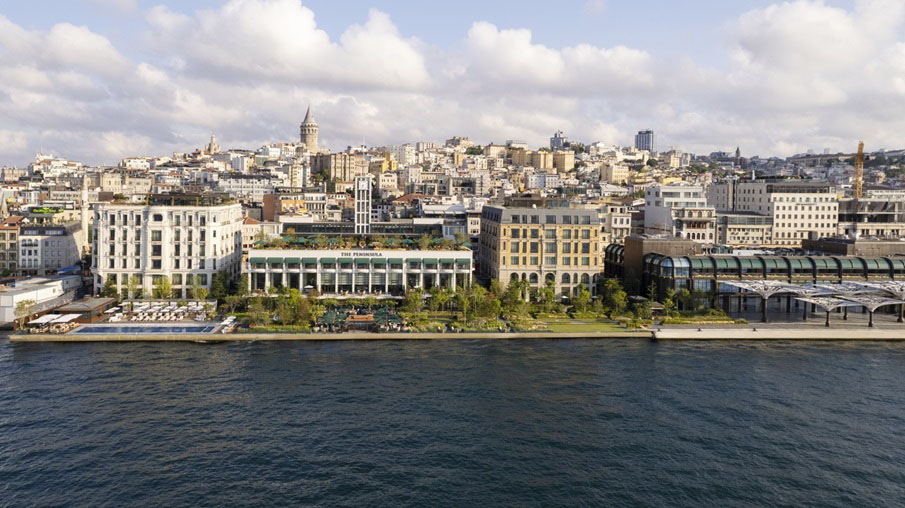 Situated in the heart of the city, along the Bosphorus, the
Peninsula Istanbul
offers guests various accommodation choices. With its 177 rooms and suites, many of which with magnificent views over the water and private terraces, the Peninsula Istanbul truly captures the essence of the city's charm and allure.
When planning an event, the hotel boasts an array of sophisticated spaces, including grand open-air terraces and gardens, that can all be tailored to suit your needs. Whether it is a corporate conference, a high-profile presentation, or an intimate gathering, the hotel's event team ensures that every detail is flawlessly executed. State-of-the-art technology and thoughtful design create an environment that fosters productivity and collaboration.
Furthermore, for those needing a break between one meeting and the other, the hotel offers a fabulous spa, a natural sanctuary of tranquillity and rejuvenation. Drawing inspiration from Turkish traditions, the resort offers a range of treatments and therapies that promote relaxation and well-being.
Motivational and rewarding experiences in Istanbul
In the captivating embrace of Istanbul, motivation and reward flourish around every corner. This destination is a playground for fostering team spirit, encouraging personal growth, and celebrating accomplishments. Here, at the crossroads of cultures and histories, your incentive travel programme takes on a transformative dimension, sparking motivation through incredibly immersive experiences.
1. Navigating the Labyrinthine Bazaars: Encourage your team to embrace the exhilaration of exploration as they wander through Istanbul's vibrant bazaars. The Grand Bazaar and the Spice Bazaar are more than just marketplaces; they are arenas for negotiation where each interaction fosters confidence and strategic thinking.
2. Culinary Bonding: Break bread – or kebabs – with your team as you explore Istanbul's culinary scene. From street-side vendors serving savoury delights to elegant rooftop restaurants offering panoramic views, every bite celebrates diverse flavours and shared experiences. These moments of communal dining strengthen bonds, reminding everyone that collaboration enhances both the journey and the final taste of success.
3. Bosphorus Reflections: Take your team on a serene Bosphorus cruise, where the city's iconic skyline unveils itself in a new light. The tranquil waters mirror the journey your team is on – one of constant movement, yet with the promise of discovery around every bend. As the boat glides under the Bosphorus Bridge, the physical and symbolic connections between continents become a reminder of the bridges built through teamwork.
4. Creative Workshops and Artistry: Step out of the boardroom and into the realm of artistic creation with workshops that blend tradition and innovation. Engage your team in activities like Ebru marbling, where ink and water dance to form intricate patterns. These hands-on experiences aren't just about crafting tangible art; they are about fostering adaptability, embracing mistakes, and finding beauty.
5. Hot Air Balloon Adventure in Cappadocia: The exhilaration of ascending in a hot air balloon at sunrise over the stunning landscapes of Cappadocia will symbolise the heights that can be reached through collective effort. As the team soars above the otherworldly rock formations, the experience becomes a metaphor for aiming high and embracing new horizons.
In the world of incentive travel, Istanbul emerges as an irresistible choice, weaving history, culture, and modernity into an unforgettable experience. The city's captivating blend of old-world charm and contemporary luxury is a perfect canvas for incentive trips. Beyond its iconic landmarks, Istanbul's proximity to the enchanting landscapes of Cappadocia adds an extra layer of allure.
Accommodation options abound, with boutique gems like The Argos in Cappadocia Hotel offering unique cave rooms. Or the Peninsula Istanbul and the Raffles Istanbul, which showcase personalised luxury and cutting-edge meeting facilities, elevating comfort and productivity.
The journey concludes with a realisation: Istanbul isn't just a destination but a transformative adventure. Whether wandering through its ancient streets or gazing at its modern skyline, the allure remains constant – Istanbul is an incentive travel destination that leaves an indelible mark on the heart and soul.
So, are you ready to plan your next incentive trip? Contact the Black Book team today.
We'd love to hear from you.
Like what you see? Get in touch today and let our team help your business achieve greatness with the power of events.