conference venues edinburgh
Conferences have become a vital cornerstone of knowledge sharing, networking, and professional development.  
As professionals and industry leaders, we understand the immense influence a well-executed conference can have on our careers and businesses. However, amidst the many decisions involved in planning a conference, one critical aspect often overlooked is selecting the ideal venue and destination.  
In this blog, we explore the impact of the right venue on the audience and why the city of Edinburgh stands out as an exceptional destination for hosting conferences.  
Menu
– Large-scale Conference Venues in Edinburgh
– Blank canvas venues for conferences in Edinburgh
– Conference hotels in Edinburgh
Why

Edinburgh

is a Great Destination for Hosting Conferences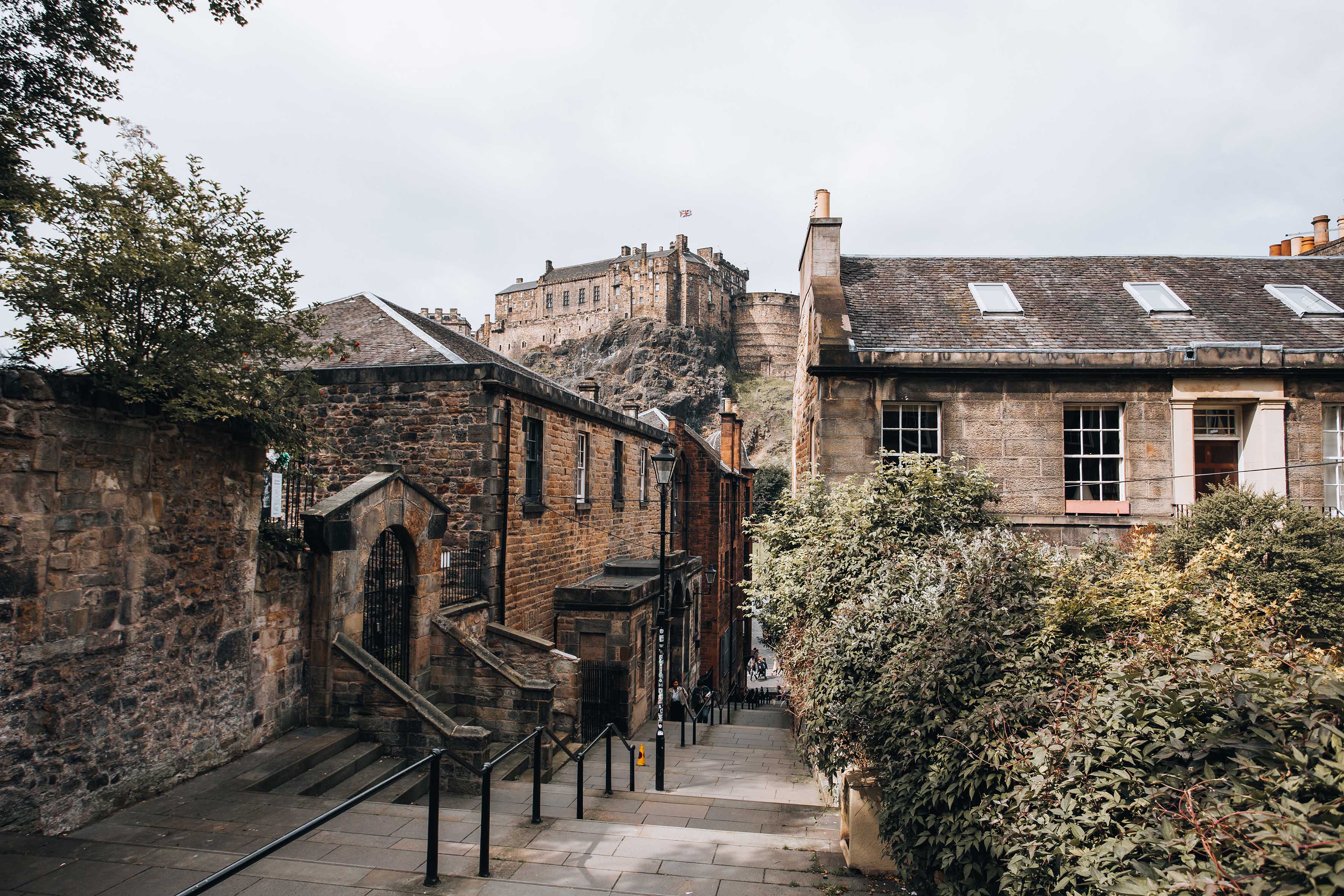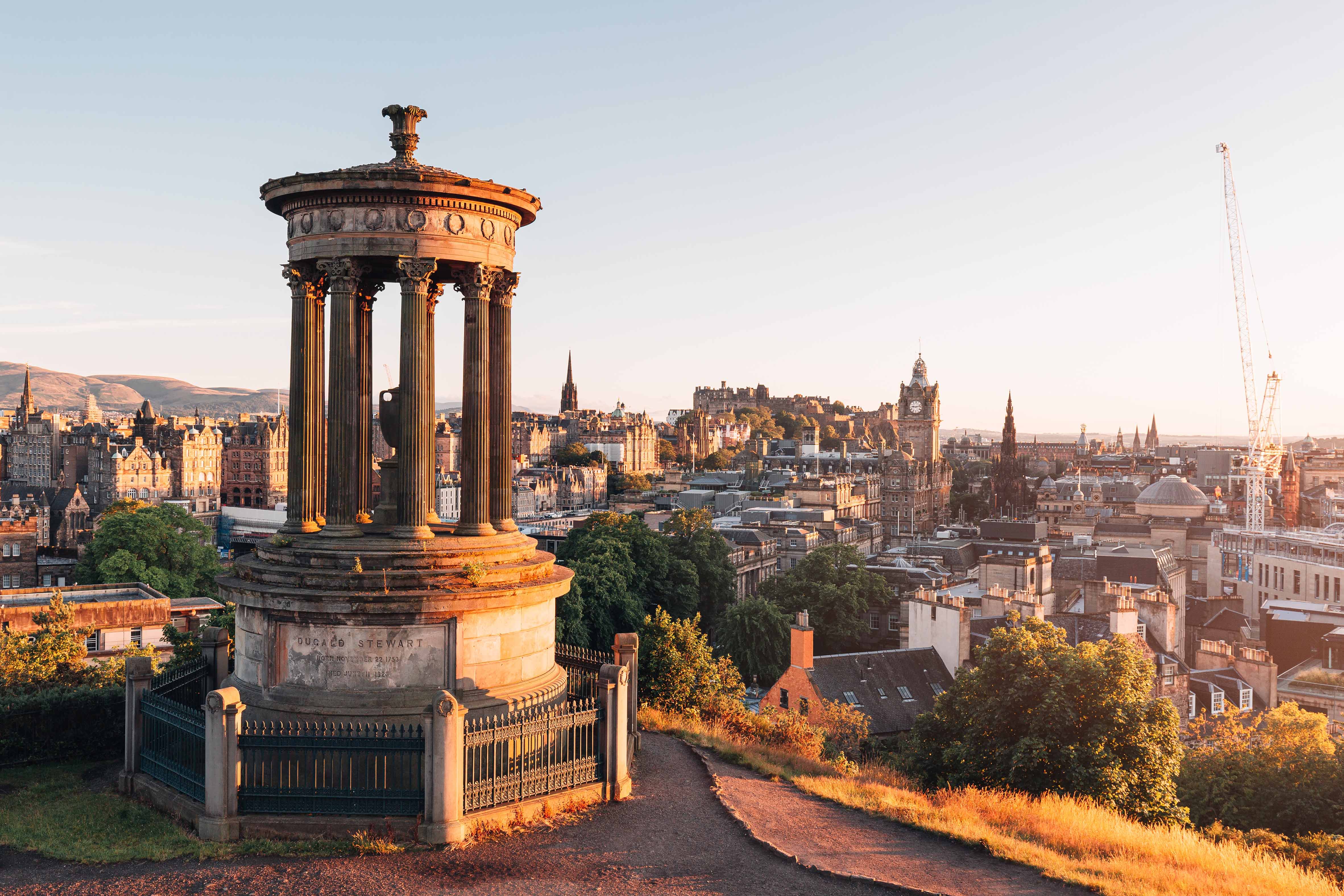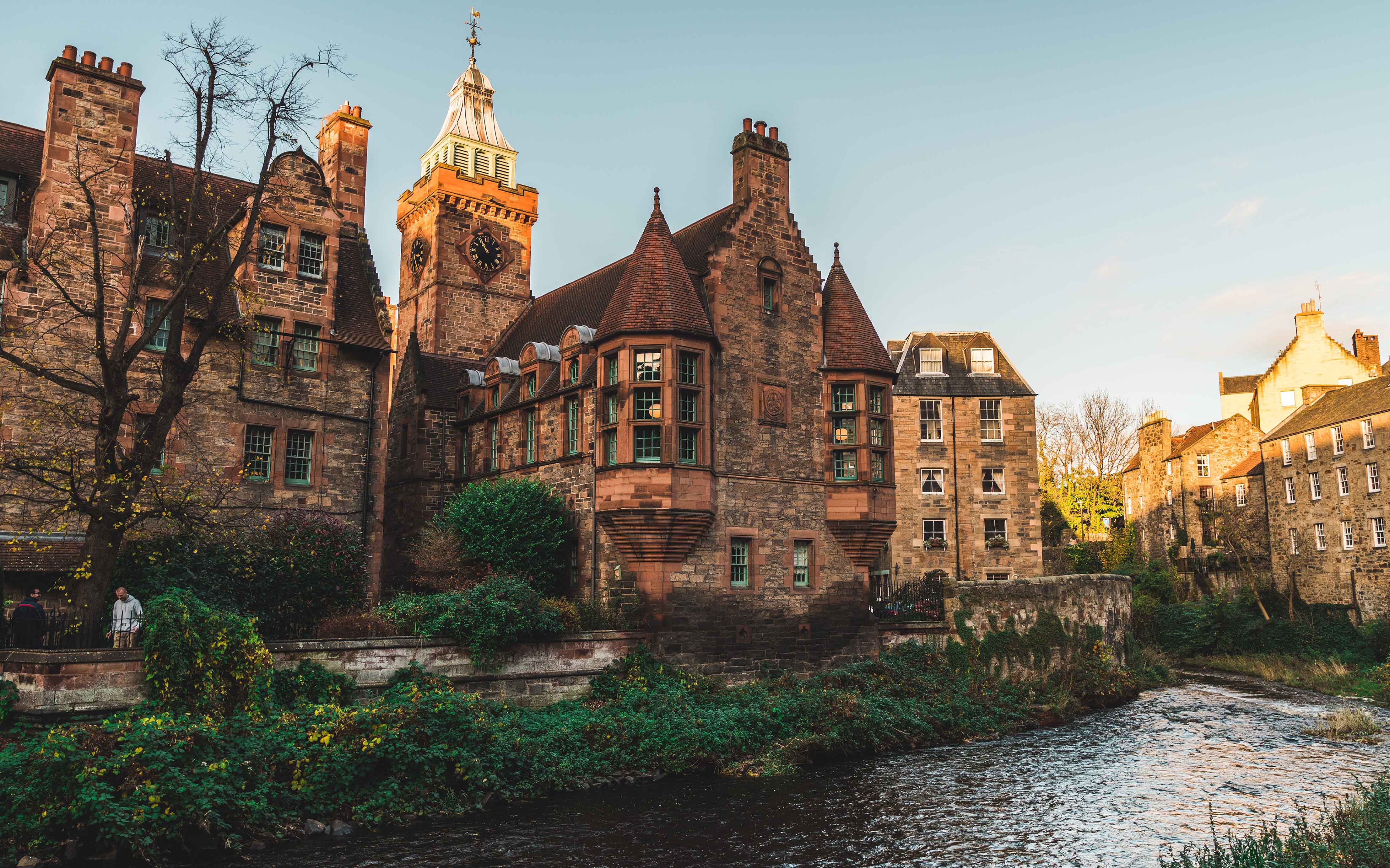 As we mentioned in our previous blog, "Venue finding: what makes a great conference venue," when it comes to hosting conferences, the choice of destination can make all the difference in creating a truly remarkable event.  
Among the many cities vying for attention, Edinburgh shines as a standout destination for conferences of all types. From its rich cultural heritage to its world-class conference facilities, accessible location, and status as a knowledge hub, Edinburgh offers an enticing blend of charm, convenience, and intellectual vibrancy that sets it apart.  
So, let's explore why Edinburgh stands out as an excellent destination for planning your next conference and discover the exceptional opportunities it holds for both conference planners and attendees alike. 
Accessible Location
Convenience and accessibility are crucial factors when selecting a conference destination. Edinburgh excels in both aspects, with excellent transportation links and a well-connected airport that welcomes domestic and international flights.  
Therefore, delegates will find it easy to reach the city, ensuring a high attendance rate and reducing logistical challenges. Moreover, Edinburgh's compact size allows for seamless navigation between conference venues, accommodations, and leisure activities, creating a hassle-free experience for all attendees. 
 2. World-Class Conference Facilities  

Edinburgh boasts an impressive array of conference facilities that cater to various needs and requirements. For example, the Edinburgh International Conference Centre (EICC) is a premier venue known for its state-of-the-art infrastructure and exceptional service.  
Additionally, the city offers a wide range of unique and historic venues, such as university halls, historic castles, and contemporary event spaces, providing many options to suit any conference theme or ambience. 
3. Professional Growth 
Attending conferences is a great way to enhance professional skills and knowledge. Many conferences offer educational sessions, training workshops, and certification opportunities that contribute to ongoing professional development. By staying updated on the latest advancements, attendees can strengthen their expertise, improve their problem-solving abilities, and gain a competitive edge in their respective fields.
 4. Brand Exposure and Promotion
Edinburgh effortlessly blends ancient charm with contemporary sophistication. The city's rich history and vibrant culture make it an awe-inspiring backdrop for any conference. From the iconic Edinburgh Castle to the picturesque cobbled streets of the Old Town, delegates will be immersed in a captivating atmosphere that fuels inspiration and creativity.  
The blend of traditional and modern venues provides an ideal setting to engage attendees in an unforgettable conference experience. 
Large-scale

con

feren

ce

ve

nu

e

s

in

Edinburgh
When organising a large-scale conference, finding the perfect venue is crucial to ensuring a seamless and successful event. In Edinburgh, conference planners are spoiled for choice with an impressive selection of venues that can accommodate gatherings of any size. In this section, we will highlight three exceptional large-scale conference venues in Edinburgh, each offering unique features and amenities to cater to diverse conference needs.

a.

Edinburgh International Conference Centre (EICC)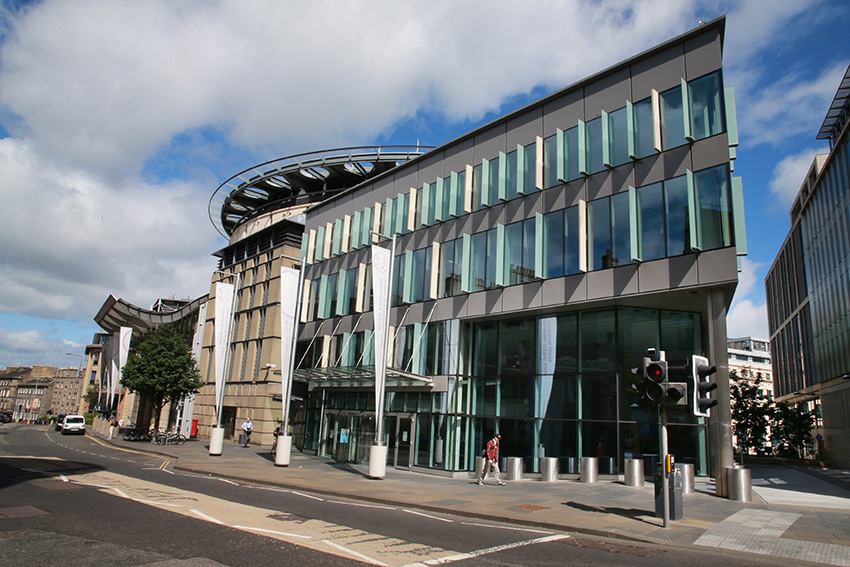 The Edinburgh International Conference Centre, known as the EICC, is one of the city's premier conference venues. Located in the heart of Edinburgh, with its cutting-edge facilities and world-class infrastructure, this multi-purpose venue has earned a stellar reputation for hosting large-scale conferences and events.  
Its main auditorium can accommodate over 2,000 delegates, equipped with state-of-the-art audiovisual systems and comfortable seating. The venue also boasts flexible breakout rooms and exhibition spaces, allowing for seamless flow and versatility.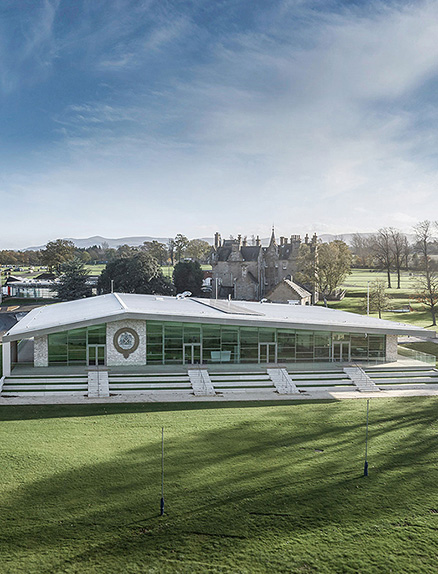 For conferences seeking a venue with vast space and adaptable layouts, the Royal Highland Centre, Scotland's largest indoor and outdoor venue, fits the bill perfectly.  
This expansive venue is located near Edinburgh Airport and offers over 16,000 sqm of exhibition space, making it ideal for trade shows, exhibitions, and conferences with large-scale requirements. The centre features multiple exhibition halls and conference suites, allowing for customisation to suit diverse event needs. With ample parking, excellent transport links, and on-site catering facilities, the Royal Highland Centre offers a convenient and versatile solution for hosting extensive conferences and industry expos. 
c.

John McIntyre Conference Centre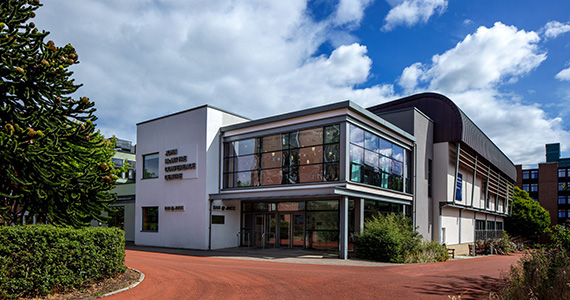 Nestled within the beautiful grounds of the University of Edinburgh's Pollock Halls campus, the John McIntyre Conference Centre (JMCC) offers a unique and inspiring setting for large-scale conferences. This state-of-the-art venue combines modern facilities with a touch of historic charm. With a main auditorium that can accommodate up to 330 guests, the John McIntyre Conference Centre provides a spacious and comfortable environment for keynote speeches and plenary sessions.  
The venue also features flexible breakout rooms equipped with the latest audiovisual technology, allowing for seamless workshops and interactive sessions.
Blank canvas

venue

s for conferences in Edinburgh
For conference and event planners seeking a unique and customisable environment, blank canvas venues offer a world of possibilities. These venues provide a blank slate upon which to bring your conference vision to life, allowing for creative freedom and customisation.  
In Edinburgh, a city known for its vibrant arts and culture scene, several outstanding blank canvas venues cater to conferences of all sizes. In this section, we will explore three such venues that offer endless potential for creating memorable and immersive conference experiences.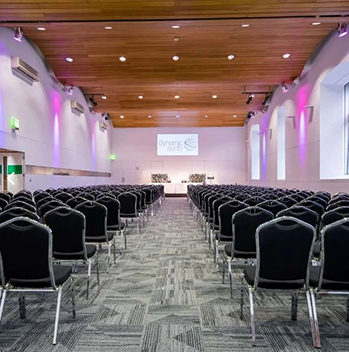 Situated just moments away from the picturesque Holyrood Park, Dynamic Earth is a cutting-edge contemporary venue that offers a blend of innovation and natural beauty. This award-winning venue, offering inspiring views across Edinburgh's picturesque cityscape, showcases the story of our planet through interactive exhibits and immersive displays.  
The venue's unique architecture, inspired by the shape of a giant marquee, provides a distinctive backdrop for conferences. With its spacious and flexible event spaces, including the Stratosphere and Biosphere Suite, Dynamic Earth offers endless possibilities for conference setups, from extensive plenary sessions to intimate breakout discussions.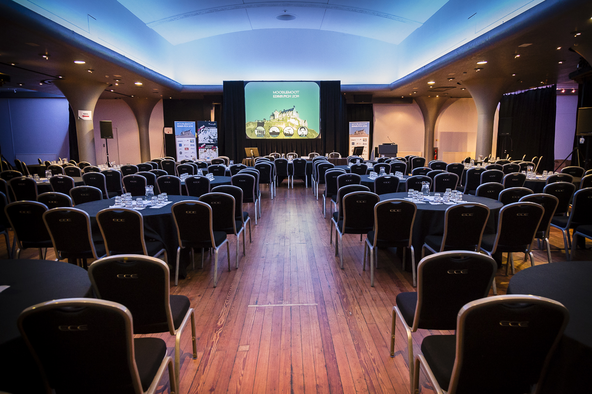 For conference organisers seeking a dynamic and vibrant blank canvas venue, the O2 Academy Edinburgh is an exceptional choice.  
Located in the heart of the city, this iconic multi-purpose events venue offers a versatile space that can be tailored to accommodate conferences of various sizes.  
The main auditorium boasts a spacious floor area and tiered seating, providing a comfortable setting for keynote speeches and presentations. The venue also offers multiple breakout rooms and VIP areas that can be used for workshops, networking sessions, and exhibitor booths. With state-of-the-art audiovisual equipment, professional lighting systems, and a dedicated event team, the O2 Academy Edinburgh ensures seamless technical execution and impeccable service.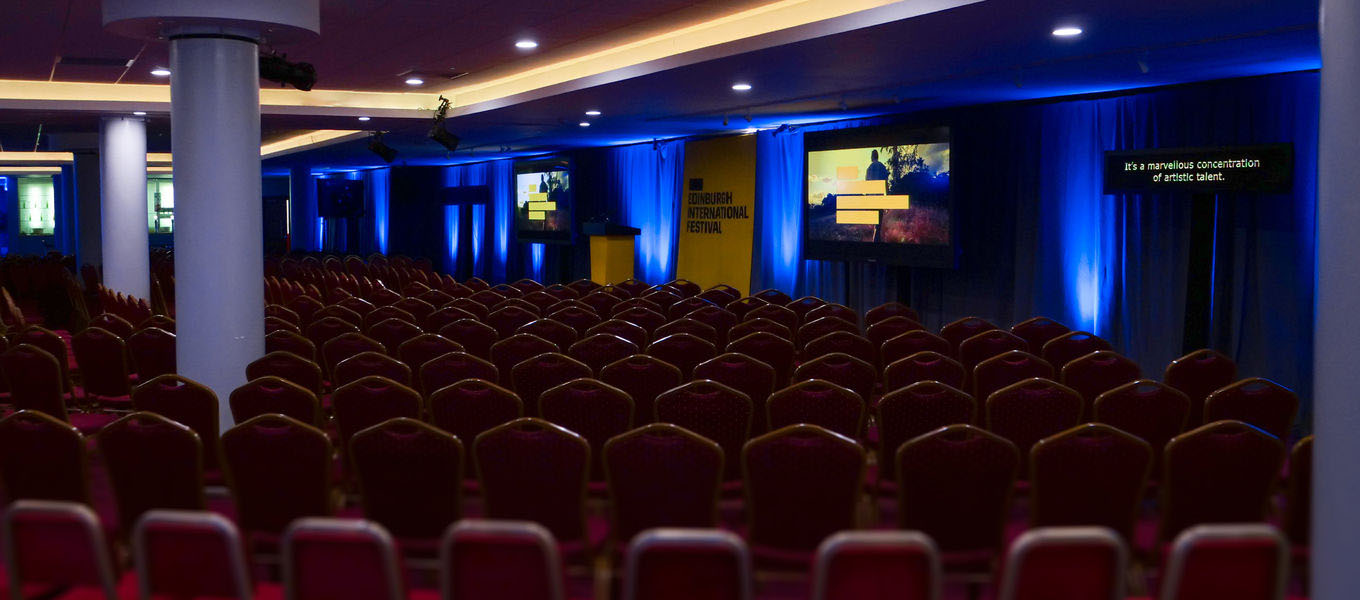 Stynecastle Park, the historic home of Heart of Midlothian Football Club, offers a distinctive and versatile venue for conferences in Edinburgh.  
Situated in the Gorgie area of the city, this iconic stadium brings together a rich football heritage with modern conference facilities, providing a unique backdrop for conferences of all types and sizes, thanks to its six modern suites and auditoria, which can accommodate up to 1200 delegates. 
Conference hotels in

Edinburgh
Numerous conference hotels in Edinburgh offer excellent facilities for hosting successful events. These hotels not only provide state-of-the-art conference facilities but also offer a range of amenities and services tailored to meet the unique needs of conference planners.  
g.

The Balmoral, A Rocco Forte Hotel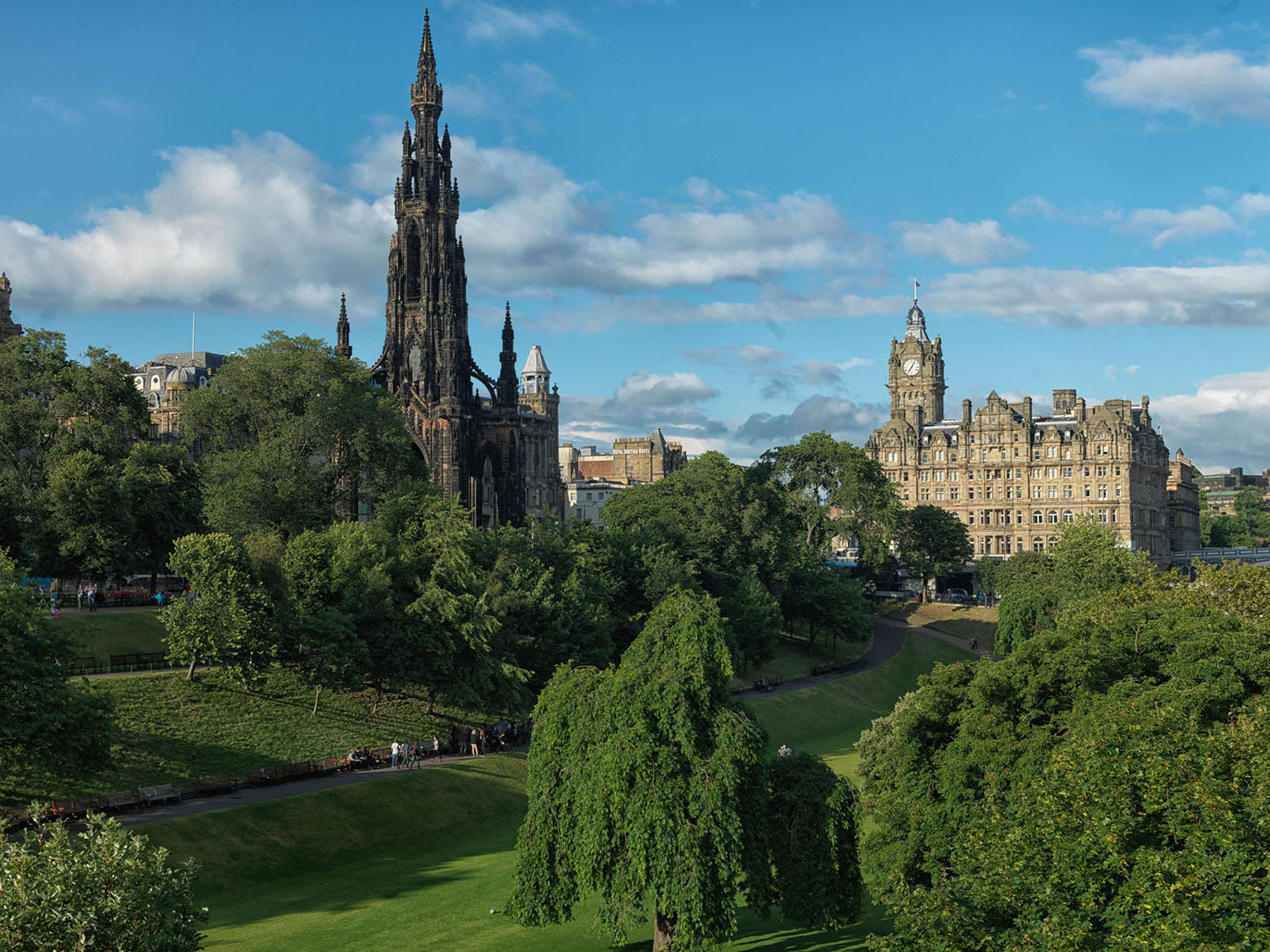 Situated in the heart of Edinburgh's city centre, The Balmoral stands as an iconic landmark, offering unparalleled luxury and sophistication. This five-star hotel seamlessly blends historic charm with contemporary elegance, providing a memorable conference setting.  
The Balmoral features ten unique conference and banqueting suites, including the stunning Sir Walter Scott Suite, which can accommodate large-scale events with ease up to 320 guests.  
Additionally, attendees can enjoy exquisite dining options, a luxurious spa, and the hotel's central location, which provides easy access to Edinburgh's attractions and transportation hubs. 
h. T

he

Sheraton Grand Hotel & Spa

Edinburgh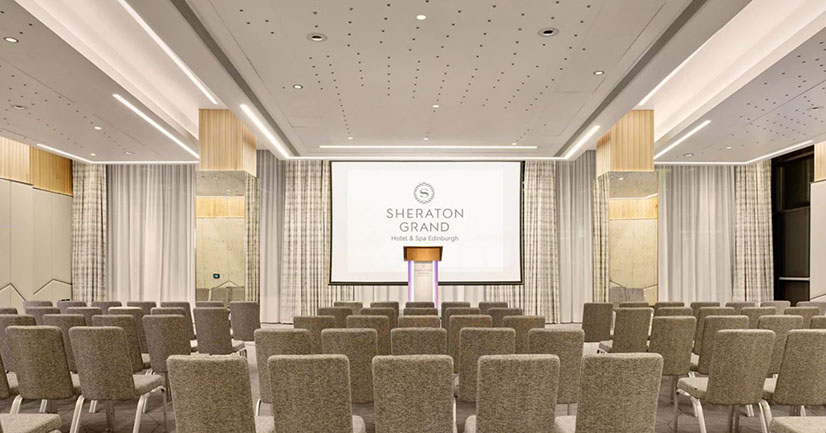 Nestled in the heart of Edinburgh's vibrant financial district, right next to the EICC, the Sheraton Grand Hotel & Spa offers a blend of contemporary luxury and exceptional conference facilities.  
The hotel features fourteen flexible meeting spaces capable of accommodating events of any scale. The modern and well-equipped conference rooms are complemented by the hotel's renowned hospitality and impeccable service. Attendees can enjoy the hotel's stylish guest rooms, rejuvenating spa facilities, and a variety of dining options.  
With its prime location, this hotel allows for easy exploration of Edinburgh's attractions and offers convenient access to transportation hubs. 
i.

Waldorf Astoria Edinburgh – The Caledonian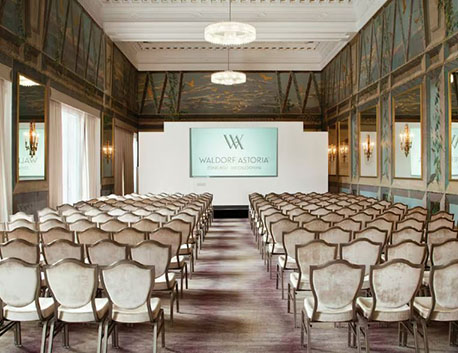 Located in the heart of Edinburgh's historical and cultural centre, the Waldorf Astoria Edinburgh – The Caledonian offers a luxurious conference hotel experience.  
Housed in a grand Victorian building, this five-star hotel blends timeless elegance with contemporary comforts. The hotel features a range of conference facilities, including versatile meeting rooms equipped with cutting-edge technology and ample space for presentations and workshops. The hand-painted, listed Scottish-themed ballroom, with exquisite décor, provides a sophisticated setting for larger conferences and gala events.  
Additionally, attendees can indulge in the hotel's renowned dining options, unwind at the luxurious Guerlain Spa, and enjoy the convenience of the hotel's central location, which offers easy access to Edinburgh's attractions.  
Edinburgh, with its rich history, vibrant atmosphere, and world-class amenities, is an ideal destination for hosting conferences.  
Throughout this blog, we have explored the influence of conferences and the importance of selecting the right venue to maximise their impact. From large-scale conference venues to blank canvas spaces and conference hotels, Edinburgh offers diverse options to suit every conference organizer's needs. 
So, if you want to start planning your next conference in the beautiful city of Edinburgh, contact the Black Book team today!
We'd love to hear from you.
Like what you see? Get in touch today and let our team help your business achieve greatness with the power of events.